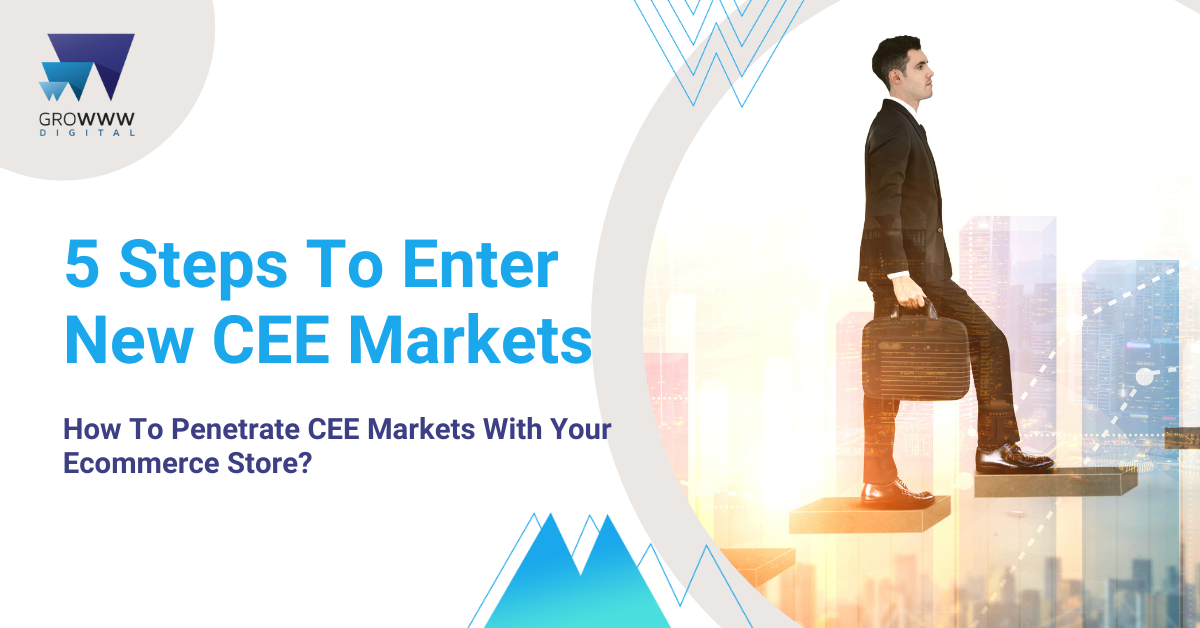 How To Enter CEE Markets With Your Ecommerce Store?
How To Enter CEE Markets With Your Ecommerce Store?
It's not rocket science.
You aim for growth and profitability, but you're stuck in your home market? Did you know that probably the best way to drive your ecommerce business further during such challenging times is expanding to foreign markets in the CEE region?
Believe us, it's not that difficult, just take those 5 necessary steps!
Want to expand in the region? Download Your Free Ultimate CEE Ecommerce Export Guide!
75 pages packed with all you need to know as an ecommerce business before you expand to Czechia, Slovakia, Hungary, Romania, Croatia and Slovenia.
1 – Have the right mindset

Everything begins with a mindset of "aiming for growth". Set your business goals, but remember: cross-border expansion is the strategy, not the goal.
Analyse your own business to see if it is ready go abroad (resources, expertise, growth potential, etc.). 
Dare to be ambitious. After defining your scope of financial and human resources, be optimistic rather than pessimistic about the results you predict to achieve. The "Aim higher to reach higher" approach can work if you are willing to stretch your limits, but not necessarily taking risks carelessly.
Let us share a story with you.
Some years ago Mall Group, a leading Czech ecommerce company, assigned us with the digital marketing operations of expanding to Hungary (Mall.hu). After one year, we managed to achieve a 60% year-on-year increase in revenue for the local marketing channels that we managed.
Planning for the following year, we thought a realistic growth goal would be a little less than 60%, since we already raised the bar during the first year. However, the Czech client wanted 100% growth for the second year over the first year.
We thought it to be too bold, but still calculated that reaching such a target figure would call for a more sophisticated optimisation and an ad spend three times larger than we applied for the previous year. The result? Together we made it.
Of course we felt pushed, but it made us work harder and finally the project brought us an immense benefit: we believed in ourselves more than ever before.
Without the "right mindset" of the client such a success would not have been possible and the outcome would have been surely different, had they asked for a 10% growth for that year.
Long-term result: With our cooperation, Mall.hu managed to grow from HUF 1.5 billion to HUF 12 billion within 4 years and has become a TOP 10 listed ecommerce player in Hungary.
Time needed: 2-4 weeks
2 – Choose your go-to market

Do your homework: prepare a market analysis, study the ecosystems in different countries, estimate the demand, test, and validate. Decide who to work with. A local freelancer, a local agency, or a specialised export agency?
Identify the top 3 target countries with the help of a market analysis, based on factors such as validated market potential, main competitors, number of ecommerce shoppers compared to total number of Internet users, need for local language support, and year-on-year ecommerce growth.
Fast help: Fill out the Export Checklist
Examine the ecosystems in the top 3 markets in terms of national rules and regulations, logistics, delivery, and payment providers, consumer behavior, and sales peak and low times, e.g. special seasonal characteristics.
Identify if there is any existing demand for your products already from abroad and then test the markets using Google Shopping. This is a fairly quick and reliable way to get information about the market potential.
Choose the right business or marketing partner to work with according to your needs: it may be just a freelancer if your project is rather small-scale or just a pilot initiative. You can also ask some help from a local agency or a highly specialised export agency that has all the skills and experience at the local level and is able to guide you through the market entry process.
Time needed: 2-4 weeks
Further help:
Market Sizing, Growth Analysis and Workshop
Why hire an export focused digital-agency?
6 steps choosing go to market in CEE
3 – Set Foot On The New Market

Give your business that local touch… Be present with your products on a regional marketplace or create the localised version of your ecommerce store, set up a local bank account and VAT number (One Stop Shop in the EU), start a customer service with native speakers at a localised phone number.
Probably the way with the least localisation effort is to be present in a marketplace, which is well established in the target country. A regional marketplace, on which you already sell your products in your home country, is a good option.
Having gained some experience with the marketplaces, the localization of your online store is the next logical step. Make sure the store meets all legal requirements (e.g. VAT registration, trademarks, GDPR) as well as properly translated (checked by a native speaker) and optimised for local users—understand their needs, their behaviour and speak their language.
Setting up a local telephone number and native speaking customer service may be a good idea since it will largely enhance the customer experience and problem solving.
Time needed: 2-5 months
4 – Pick The Low-Hanging Fruits First

Start generating revenues as soon as possible with reasonable efficiency.
"Fail fast to win a new market quickly." Start with the easiest and fastest revenue generating channels: run acquisition PPC campaigns (e.g. Shopping Ads, price comparison sites, Facebook Ads).
Having acquired your first shoppers and now starting to build up a customer base, you are gathering more and more data about your customers. Use these data smartly. There is a huge potential in web analytics (e.g. understanding user journey and behaviour, having better reports, etc.), which helps you to gain a good chunk of income at the end of the day.
This all contributes to more optimised and more efficient campaigns by which you can maximise your return on investment. Simply put: know how to avoid wasting your money.
Time needed: 1-3 months
Further help:
Grow with Google Business Academy: Export-ready seminár by László Szabó (in Slovakian)
5 – Build awareness

Your company and brand will be a "new kid on the block". Make sure your target audience gets familiar with it as soon as possible—thus building trust and driving more sales.
Social media marketing is a great way to reach audiences in your target country. It's not directly for selling, but should be regarded as more of an investment by which you can build your brand. The returns will appear only months or even years after you started communicating with your audience. But it's worth it.
Fast tip: TikTok offers very reasonable CPVs (Cost Per Views)
Additionally, keep in mind that there can be significant differences in user behaviour from country to country even if they are located close to each other within the CEE region. Basically, if you plan to operate in a number of foreign markets, don't expect to solve issues or achieve success the same way in each country. 
Time needed: 6-12 months
Further help:
What comes after the acquisition phase during ecommerce expansion?

Do you need a partner to help you expand abroad? Reach out!

Partner up with a trusted digital agency when doing business abroad.
Fill in the form or feel free to contact László Szabó, co-founder and Head of Growth at Growww Digital, at szabo@growwwdigital.com or +36 30 537 7051
Want to expand in the region? Download Your Free Ultimate CEE Ecommerce Export Guide!
75 pages packed with all you need to know as an ecommerce business before you expand to Czechia, Slovakia, Hungary, Romania, Croatia and Slovenia.