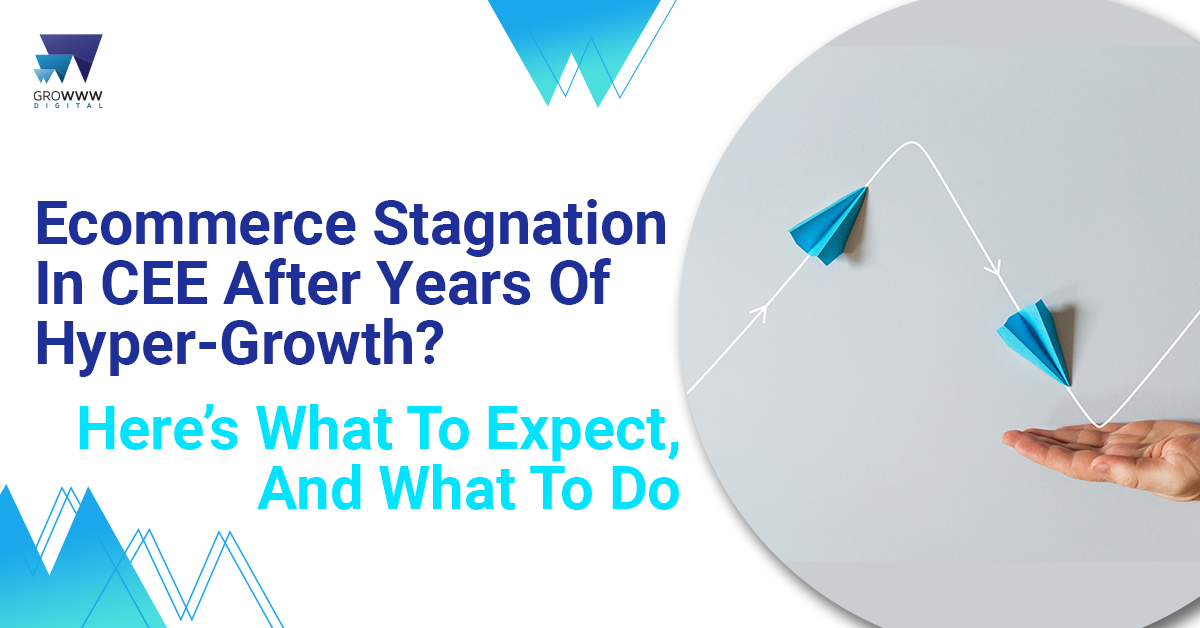 Ecommerce Stagnation In CEE After Years Of Hyper-Growth?
Ecommerce Stagnation In CEE After Years Of Hyper-Growth? Here's What To Expect, And What To Do 
Online stores have been through a whirlwind of a change in just two years, and it seems that it's far from over yet. Compared to recent years and quarters, the unprecedented ecommerce growth in the CEE region seems to have stopped. As an ecommerce business owner, you should be alert (yet not alarmed). We've gathered all data for you to get a comprehensive big picture of the current situation, its possible unfoldings, as well as the action steps to take.
As 2022 rolls in, the CEE ecommerce market shows remarkably poor growth figures
The dynamic ecommerce revenue growth in the CEE region which started in March 2020, seems to have slowed down dramatically. According to Growww Digital's charts, growth for Q1 has been the lowest throughout the past 9 quarters — the 2022's Q1 Year on Year Ads spend growth and ecommerce revenue growth of 3% and 4% indicate that the market is now stagnating. For many merchants who were forced to run before they could even walk in the past two years, this coming recession raises serious challenges.
What does it mean? Compromised profitability may be one problem, the inability to keep up a whole other
According to László Szabó, even if the stagnation didn't occur, inflation and the weakening of local currencies against the Euro would still largely decrease the profitability of many ecommerce businesses. Add to that a pretty much stagnating ecommerce market, and you have yourself a whole new set of problems. "Especially for those who have recently invested significant amounts of capital and human resources to double or triple in size and better serve their customers, the current situation can be even more difficult. If this trend continues, returns on these investments may come much later than expected," explains Szabó, a Google Certified Trainer for Export for the Czech Republic and Slovakia.
Let's look at some relevant figures that show clearly how advertising costs have been stagnating over the last months—based on our own data of 250+ ecommerce businesses.
It is even more noticeable when looking at weekly data: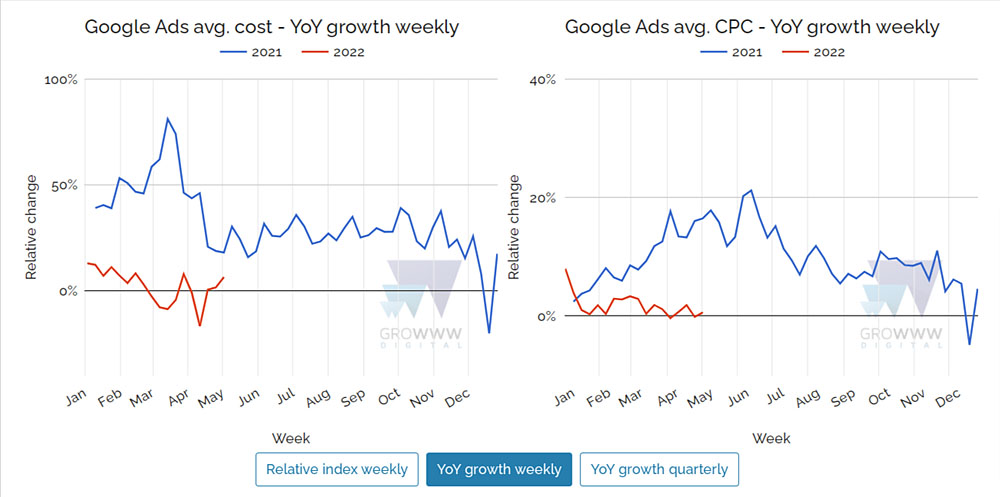 Please feel free to check out more data on our dashboard, refreshed on a weekly basis:
From COVID being over to war in Ukraine, these are the root causes
So, why is it happening? As often is the case during market shifts, there is no one reason in particular. A possible explanation, from where we are standing, lies in a combination of several key trends and events taking place at the same time: 
1.Brick-and-mortar shopping gaining more traction as COVID became less of a threat
The pandemic seems to be proclaimed over, at least in Central Europe. With war breaking out literally around the corner, COVID practically disappeared from news headlines, political debates, and people's minds. Together with easing out of safety measures, consumers are largely returning to their pre-pandemic shopping behaviour. Szabó, who is also Co-Founder and Head of Growth at Growww Digital, an export-focused agency, calls this baseline shift: "The problem is that we compare ourselves to past years' higher numbers while offline shops open and there are practically no barriers for offline shopping now." And while it is true that the pandemic most likely shifted people's spending habits long-term, people hold on to their money more than ever. Let's unpack why. 
2. Postponing purchases of unnecessary goods due to instability in the region 
The outbreak of the Russia-Ukraine conflict has a ripple effect of its own. For one, it refrains people from mindless spending which is a factor in any sort of shopping, online shopping included. "Looking at the data it seems that people are getting more cautious and wait or postpone their purchases, mostly with premium products they don't necessarily need," explains Szabó. 
3. Inflation reducing the average basket size 
Second, due to higher inflation than in previous years, the same amount of money gets you a smaller basket size as a consumer. Together with postponing what people label as "extra" purchases, the average basket size has dropped and remains smaller. 
4. Other factors at play
It goes without saying that rising fuel prices have increased costs of logistics and are likely to translate into shipping costs. It's also interesting to notice that stagnation differs slightly when we take into account national events. "There have been money giveaways in Hungary before March's elections (from tax back to 13th pension) which temporarily increased the buying power of locals, so the drop is not as significant in Hungary as it is throughout the region, but the trend is still present," Szabó adds an interesting caveat. 
No less interestingly, the Czech market with one of the richest ecommerce ecosystems showed the biggest 2022 Q1 YoY decline in the whole CEE region.
Shall this ecommerce stagnation in CEE continue? 
With that all in mind, the most asked question by ecommerce businesses nowadays is: How long would this take? If you're wondering if this was a one-quarter-only extremely rare thing, then well, most likely not. "In case the war stops by the second half of the year, then a rebounce of ecommerce is expected and growth will continue at a higher pace. On the other hand, if the conflict drags on, then the sector would continue to stagnate and prices would likely increase further on," Szabó expects.
There is a positive reading of this, too, according to the Google Certified Export Trainer: "With the 2-year COVID shift, we have moved years ahead. The YoY figures indicate that under normal circumstances we should not expect any great fallback."
Want to expand in the region? Download Your Free Ultimate CEE Ecommerce Export Guide!
75 pages packed with all you need to know as an ecommerce business before you expand to Czechia, Slovakia, Hungary, Romania, Croatia and Slovenia.
What to address first in your ecommerce business during the stagnation period 
The expert on CEE ecommerce expansion then points out that due to these unfavourable changes in the market, efficient operations of online stores has become more important than ever. This means addressing your processes as well as hiring – all this on the market where the value of experienced professionals is incredibly high due to their shortage.
"We are talking every position from relatively lower qualified customer support professionals to highly qualified C-level positions or specialists. In general, there is a shortage of people with ecommerce experience, and inflation also fuels their salary demands," Szabó elaborates.
What long-term steps should you take? "The only way is ahead," an expert says 
As we are wired as business people in the ecommerce space, this is yet another chance to grow better. "We expect what we call long-term short-termism in the upcoming period. Ecommerce businesses will focus more on effectiveness and guard their ROI figures," expects Szabó, adding that since they have invested a lot into infrastructure and logistics in the past years, the only way is ahead. 
All in all, the future of ecommerce can be and most likely will be impacted positively by this. "Now's the time to optimize your business processes and campaigns to lay foundations for future more effective growth," Szabó elaborates. As we've seen above, the decline applies to all CEE countries to the same extent. Hungary has seen the smallest drop, Czechia the biggest. "At Growww Digital, we believe that it is a good strategy to invest into new markets to strengthen your position and stand on more pillars than just one," expansion expert unpacks another way ahead. 
Paving the way ahead with an expansion-focused marketing agency on your side? Reach out!
Partner up with a trusted digital agency that's focused on export in CEE. Fill in the form or feel free to contact László Szabó, Head of Growth at Growww Digital, at szabo@growwwdigital.com or +36 30 537 7051