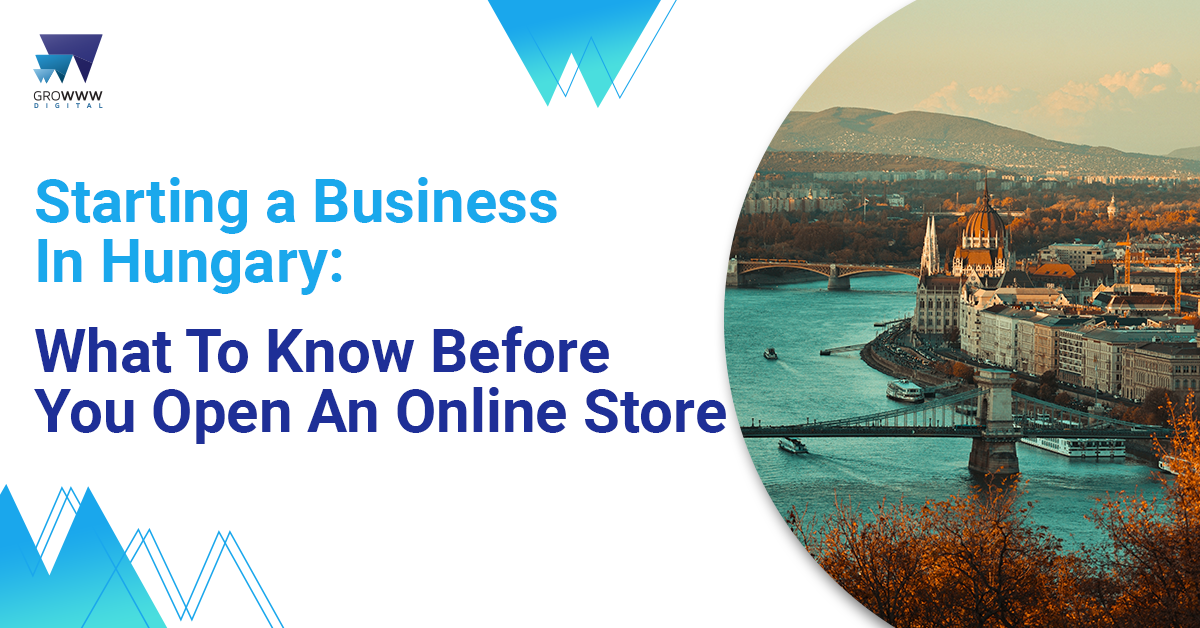 Starting a Business In Hungary: What To Know Before You Open An Online Store
Starting a Business In Hungary: What To Know Before You Open An Online Store
From grasping on business culture in Hungary to knowing local customers, logistics partners as well as steps to set up a successful ecommerce business, here's what you need to know.
Investing in Hungary? Know your why first 
As with any expansion, you need to be clear on why you're localising your ecommerce business in Hungary, and why that makes sense in your particular case. Doing business in Hungary can reap great rewards as local ecommerce is still growing at about 14%, while maturing in terms of quality. An ecosystem is set up and well functioning, from logistics to marketing. It's no beginners game though. You'll see why.
Download Your Free Ultimate CEE Ecommerce Export Guide!
75 pages packed with all you need to know as an ecommerce business before you expand to Czechia, Slovakia, Hungary, Romania, Croatia and Slovenia.
Hungarians as online shoppers: Demanding and price savvy
There're about 4.7 million online shoppers, a number that accounts for 59% of the whole population. Hungarians got used to quality products delivered the same day (for Budapest) at the lowest price available and easy to return (a 30-day return policy is a standard). 
Hungarians like the best deals and won't hesitate to check more options before clicking "pay." A typical Hungarian is generally very happy to hear words such as promotion, discount, or free (shipping).
Price is a big deciding factor, but so are reviews. Investing in excellent customer care experience as well as showroom – for many, they are a testament of a company's trustworthiness (and existence) – goes a long way.
There's so much nuance when it comes to Hungarian customers. Download our free 75-page CEE Export Guide and learn how to win them over.
Hungary's ecommerce market size
Ecommerce in Hungary was worth EUR2.2bn in 2019 (estimated Year-On-Year increase for 2020 was 30%). Hungarian online retail grows by 14-18% annually, the exact number depending on the source and measuring method.
The top ten players on the Hungarian market 
Based on online traffic data, Hungary's largest online store is eMAG with products in more than 1,500 categories. Not that long ago, this giant merged with the second strongest industry leader, edigital.hu. Technical department store chain Media Markt is third.
With electro being historically the strongest segment, 220volt, iPon and Aqua focus solely on electronics and Libri-Bookline on books. Tesco has been the main driver in the FMCG online sector, but with the pandemic Auchan Online, SPAR and Kifli took their piece of the customer pie. Alza.hu and Mall.hu too earned their place in the leading dozen.
Which logistics companies deliver in Hungary? 
The Hungarian ecommerce market is largely concentrated around Budapest and its surroundings. The traditional partners you might consider are DHL, DPD, GLS, UPS, The Hungarian Post etc. Or opt for fulfillment companies like Webshippy or Packeta Group.
Favourite payment and delivery options may surprise you 
About 44% of Hungarians prefer cards, 45% opt for cash, 5% bank transfer and e-wallet. What connects the majority is reluctance to pay in advance so expect customers to pay upon delivery.
Home delivery is largely popular (52%), especially outside Budapest. Another 44% regularly pick up their orders in stores, at pick-up or delivery points. Foxpost, Pick Pack Pont, as well as eMAG or Alza pick-up points are growing popping up outside the capital, too.
Starting a business in Hungary:

Setting your online store up for success
1. Company formation in Hungary 
If you want to build a strong brand and presence, VAT registration as well as setting up a local Ltd. (called Kft.) is strongly recommended. Operating a Hungarian ecommerce business is more demanding without local Kft., especially when you register to various services, including putting your product feed on price comparison websites.
2. Taxes in Hungary 
A middle ground is keeping your mother company abroad while registering for VAT ID. As per registering to VAT itself, Hungarian VAT is one of the highest in the world: 27%. According to VAT OSS rules, it is compulsory to register as a taxpayer in your home country after hitting EUR10K net in one year cumulatively across all markets where you sell. From January 2021, new rules apply for the Hungarian online invoicing system.
3. Price Comparison Shopping Optimisation
A price-sensitive market such as the Hungarian is basically an open invitation to establish a presence on local price comparison sites: Árukereső, Argép.hu, and others.
How to decide which price comparison site to use as a channel? Is it generally a good strategy to be on as many as possible? According to Zoltán Flekács, Head of
Performance at Growww Digital, not necessarily.
"If we aren't counting Google Shopping, Árukereső takes 70%+ of the market. For electro and DIY sellers, it's a must," Flekács knows. "In the first part, we generally advise to get the most out of Árukereső (Heureka Group) by optimising for it. Then you can employ Argép and Olcsóbbat as secondary channels, and experiment by being present there. In case of fashion, furniture and alike, Favi, Glami, and Shopalike should be your go-tos."
4. Facebook Ads for Hungary, Google Ads and Google Shopping 
Google Ads, Google Shopping, and Facebook Ads campaigns are the three you want to employ first, and (almost) every time. One thing to know about ads is that you want to take into account the disproportionality between the size of Budapest versus the rest of the country.
The capital is ten times the size of Debrecen, the second biggest city. According to Growww Digital's data, more than 40% of visits as well as half the revenue come from Budapest. Average CPC is about 10% higher for Budapest than for the rest of Hungary.
"We have our own Comparison Shopping Service (CSS), ROIshopper, introduced as the first CSS in CEE. For those reasons alone, we can guarantee an up to 20% discount on your CPC prices across the region, within the EU," Zoltán adds. Gmail retargeting as well as retargeting similar audiences on Facebook are a key part of a successful PPC strategy.
5. SEO for online stores

expanding to Hungary

 
Having a localised version of your store, in HUF and in Hungarian will enable you to have your store indexed in Hungarian search engines. Review your content and technical search engine optimisation.
We recommend having your technical (off-page) SEO centralised, meaning it is set in the same way across countries you export to. Make sure you localise off-site link building to Hungarian pages. On-site wording and localisation is crucial – we cannot emphasise this step enough.
6. Social media in Hungary
Around 6 million Hungarians use Facebook and about a third of that use Instagram, which is a higher usage than in the Czech Republic. While social media channels are not strictly performance related, it is important to start your social presence as soon as possible –⁠ they help conversions from other channels. 
"People will search for you on Facebook, Instagram and possibly TikTok to see if you're active and trustworthy. They'll look for reviews, comments and make assumptions on whether you're reliable or not based on what they find," Zoltán says, "if you're considering long-term success on a market, you cannot skip this part." 
7. Don't go further without a localised website 
Together with socials, a localised, mobile-first website is a must. A site clearly communicates your brand's DNA while serving as an end of the funnel of digital communication across channels, remarketing users, retention campaigns, all the way to building communities. 
Discover Hungarian ecommerce in greater details and peak into other CEE markets while doing so
Ready to dive deeper and really get to know the nuances of the Hungarian market, or other CEE markets for that matter? Download our free 75-page CEE Export Guide.
Do you need a partner to help you expand abroad? Reach out! 
Partner up with a trusted digital agency when focused on export in CEE. Fill in the form or feel free to contact László Szabó, co-founder and Head of Growth at Growww Digital, at szabo@growwwdigital.com or +36 30 537 7051
Download Your Free Ultimate CEE Ecommerce Export Guide!
75 pages packed with all you need to know as an ecommerce business before you expand to Czechia, Slovakia, Hungary, Romania, Croatia and Slovenia.