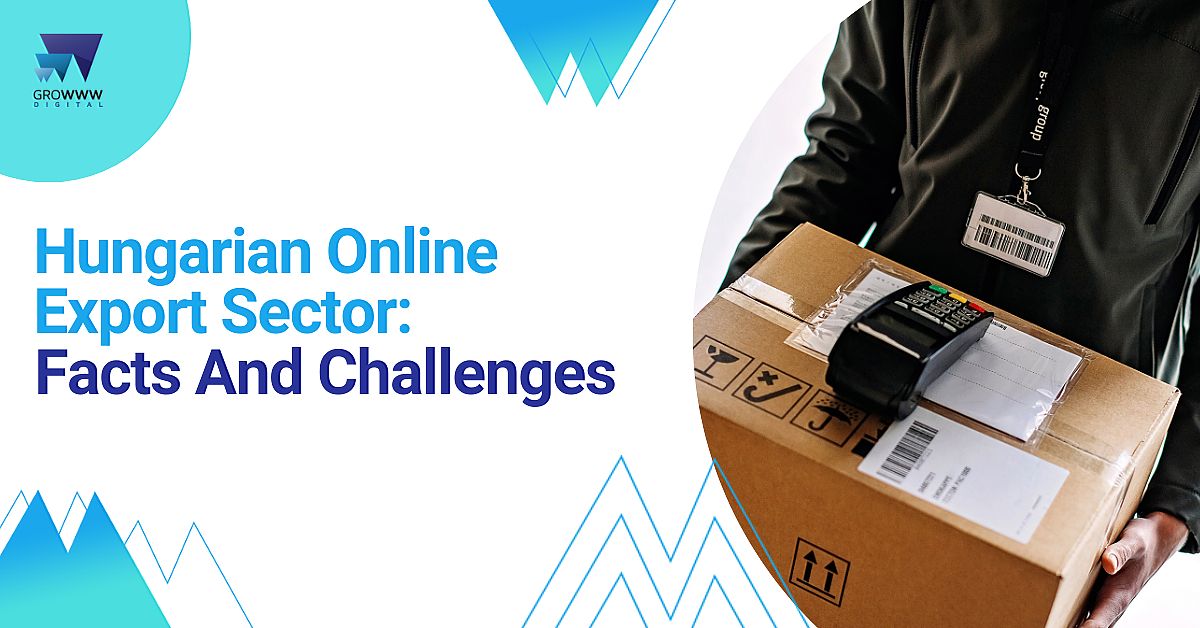 Hungarian Online Export Sector – Facts And Challenges
Hungarian Online Export Sector – Facts And Challenges
The Hungarian Digital Retail Alliance (DKSZ) recently published its first research in cooperation with GKID (GKI Digital Research & Consulting). The Online Export Research addresses an exciting and gap-filling topic, as there has never been such a comprehensive and detailed analysis of the Hungarian ecommerce export sector.
Reading the Online Export Survey will give us a detailed picture of the current situation of Hungarian e-retailers, their biggest challenges, and possible solutions.
The mission and motto of the Alliance: For the closing of the gap in Hungarian ecommerce, for the empowerment of e-retailers and for boosting export propensity.
Want to expand in the region? Download Your Free Ultimate CEE Ecommerce Export Guide!
75 pages packed with all you need to know as an ecommerce business before you expand to Czechia, Slovakia, Hungary, Romania, Croatia and Slovenia.
The current situation of ecommerce in Hungary
It is perhaps no surprise that the popularity of ecommerce in Hungary has grown significantly in the last two years. The surge in online shopping during the pandemic seems to have continued to this day.
Domestic consumers are placing orders for an increasing number and variety of products from the comfort of their smartphone or computer. A clear proof of this is that while online retail sales leapt by 45 % in 2020, in 2021 the same domestic online market grew by a further 32%, exceeding HUF1,200bn last year.
Although it started from a lower base, this growth still ranked Hungary as the second fastest growing ecommerce market in the European Union last year.
In the longer term, however, this growth could be significantly hindered by the fact that while international trade offers plenty of scope for expansion, domestic firms often face serious constraints to expanding their turnover, even on a domestic scale.
As Hungarian consumers become more confident and savvy in their approach to online shopping, e-retailers in Hungary are facing a growing competitive disadvantage.
This is mainly due to the dominance of ecommerce players, most of whom are international and often do not even have Hungarian operations, in the shadow of which domestic businesses are given less and less room and opportunity to grow.
What about export operations?
In the context of the European Union, Hungary's economy is export-oriented. While export activity in the EU averaged 46% of GDP in 2020, in Hungary it was 79.5%. Overall, Hungary is the fourth most export-oriented economy in the EU after Ireland, Slovakia and Belgium.
However, it is important to note that foreign trade is currently mainly represented by production sectors and manufacturing companies in Hungary. Manufacturing accounts for 71% of Hungary's total export turnover, while trade represents only 14%.
The structure of the current economic system was summarised by Norbert Madar, partner and senior consultant at GKID, the company conducting the research, as follows:
"Companies are typically located in a production chain, which focuses primarily on manufacturing, where the 'buyer' is not an individual but a newer, even foreign, company that represents the next step in the chain."
Wholesale trade makes up the absolute majority of trade exports, with retail trade accounting for just 0.7% of total Hungarian exports. Within the retail trade sub-sector, the weight of export sales of parcel delivery, online retail trade is only 4.7%.
Today, 37,000 websites in Hungary offer the option of online shopping, of which the number of online stores is estimated at between 15,000-20,000.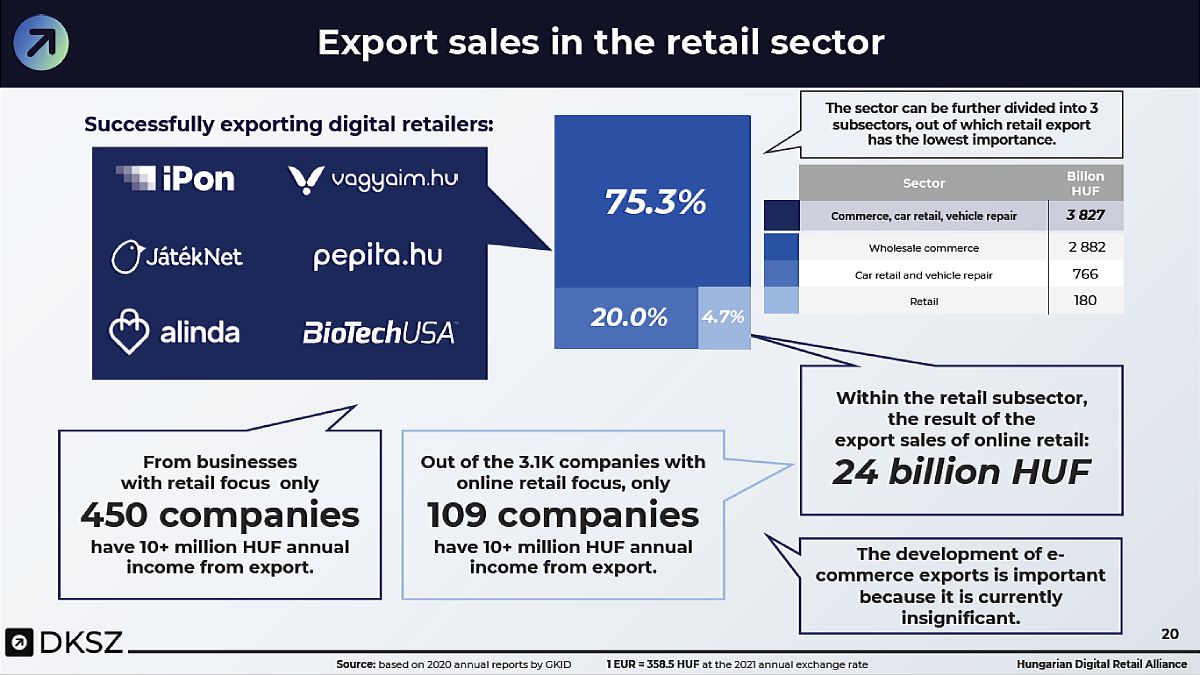 Among the 37,000 sites, only 6,000 are not ".hu" domains, with more than 2,000 ".com" and ".eu" domains, but domains from neighbouring countries are also common, especially Romanian, Slovakian, German, and Austrian. It is likely that Hungarian traders on these sites are also engaged in export activities.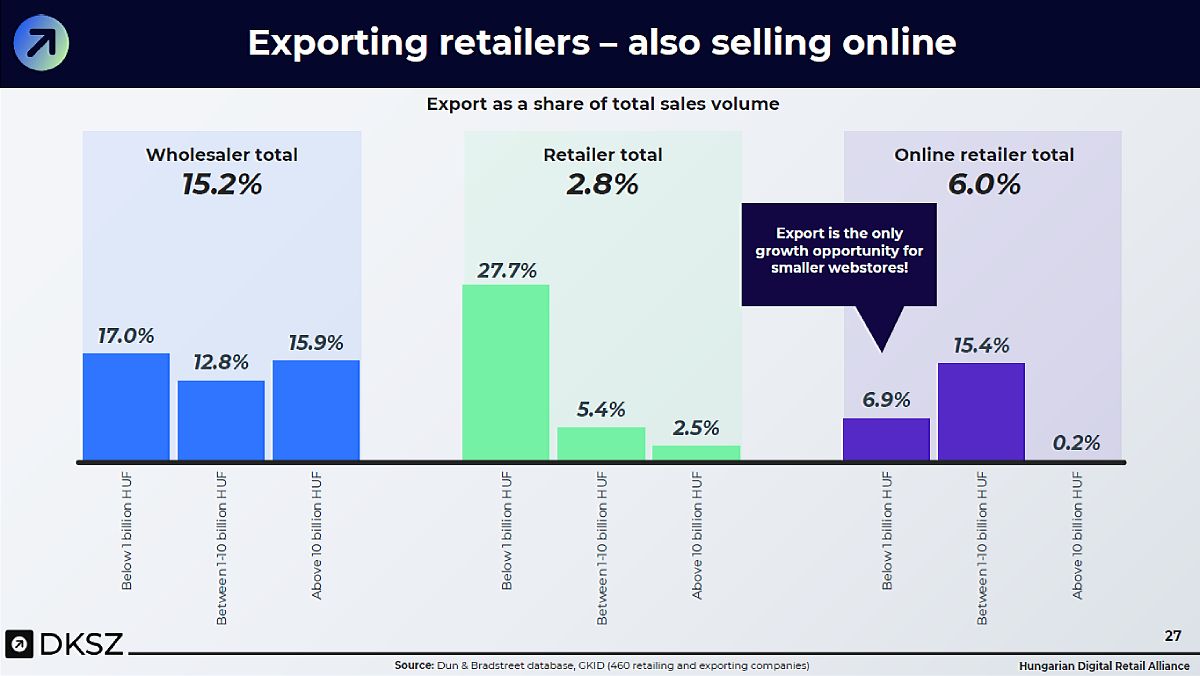 Want to expand in the region? Download Your Free Ultimate CEE Ecommerce Export Guide!
75 pages packed with all you need to know as an ecommerce business before you expand to Czechia, Slovakia, Hungary, Romania, Croatia and Slovenia.
Export challenges
According to the majority of traders currently exporting from Hungary, the first three biggest problems they face are
compiling the right product range,
and customer service management.
When asked what the reason was for expanding to foreign sales, 39.2% said that they marketed a product that could sell well in other countries. Another popular reason is that they felt that, domestically, there was simply no realistic market available, and there are a good number of companies in a fortunate trading position that can set competitive prices abroad.
The response rates show that the majority of retailers who sell abroad export due to their good product portfolio and to gain independence from the Hungarian market.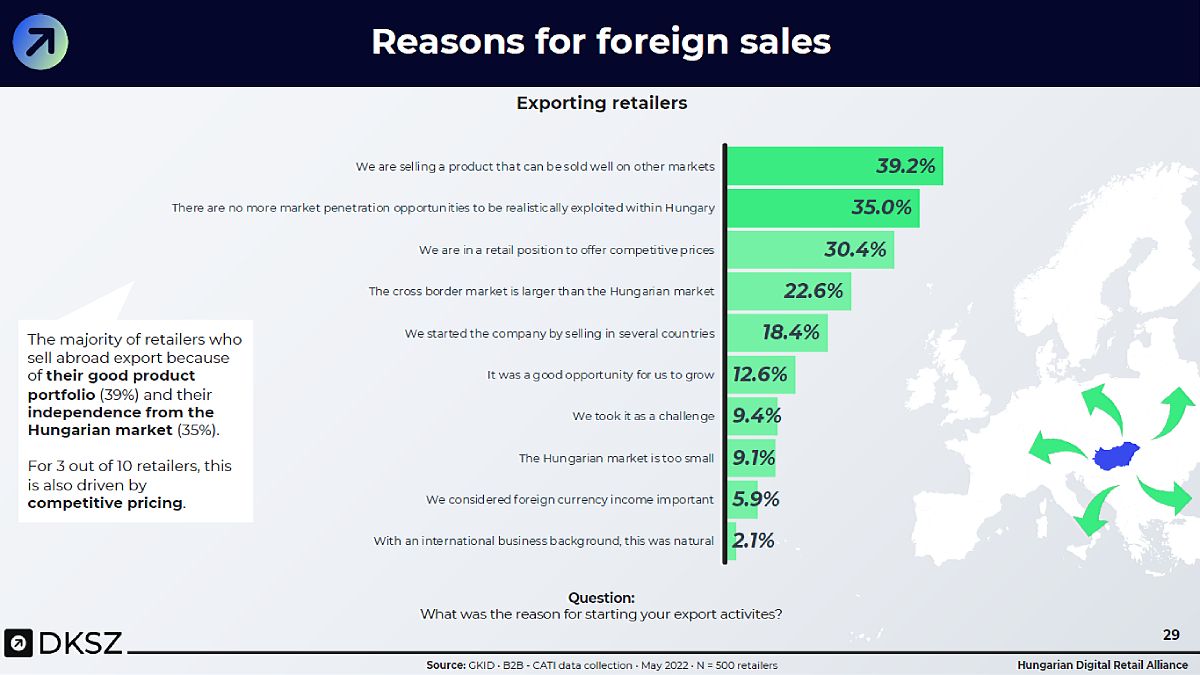 The research also included the reasons for not entering foreign markets:
Here, a high proportion (47.7%) of domestic traders consider that their product range does not allow them to sell abroad.
Other reasons include:
lack of market knowledge (15.5%),

lack of financial resources (12.8%)

lack of logistics background (11.3%),

but also simply not wanting to make the extra investments for this (10.4 %).
Hungarian export activity is significantly hampered by the fact that most of the products available for trade are imported and are not domestic, unique goods. This often leads retailers to believe that it is simply unnecessary to target other markets, as the product can be purchased there just as well.
The research points out that although most retailers, and the ones that export the most, are usually either market leaders in their own field or sell their own products as well, this does not mean that their product portfolio, or part of it, is not suitable for export. Unfortunately, this is currently difficult for traders to assess.
"The cross-border B2C ecommerce market is growing twice as fast worldwide as the domestic one, which reminds domestic webshops that entering the international market is a huge opportunity for them. The key issue for customers is the method of delivery, and their main criteria are speed, reliability, and flexibility," says Ádám Mészáros, CEO of DHL Express Hungary.
What is missing for successful Hungarian export activities?
Looking at exactly what kind of knowledge companies lack in order to successfully start exporting, there are two main determinants:
lack of staff with relevant experience (42%);

lack of adequate professional skills (40%).
Another important factor is the lack of foreign language skills among the workforce (33%) and unfamiliarity with foreign tax rules (25.5%).
In search of possible solutions
In exploring the question of what, if anything, would help traders who do not currently export but plan to in the future, cluelessness is a major factor. Nearly 80% of respondents do not know what could really help or encourage them to start exporting.
Other aspects, such as the problem of labour shortages or finding the right logistics partner and comprehensive training, lag far behind.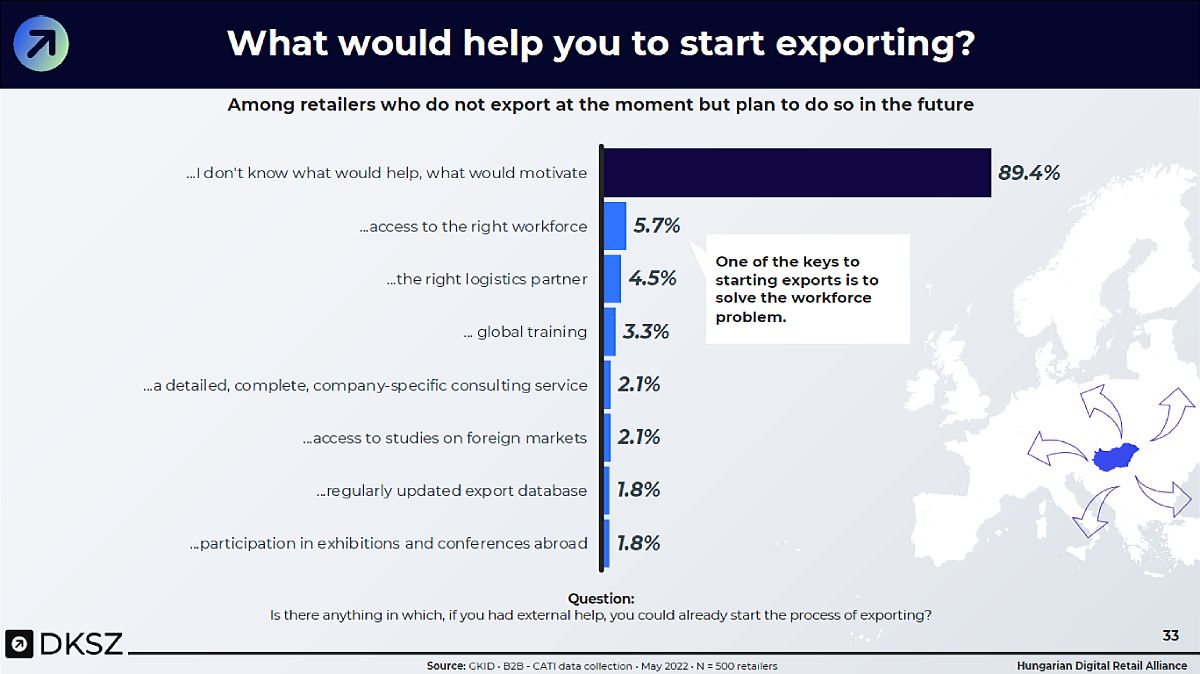 Does it matter to customers that an online retailer is Hungarian?
With a preferably localised look and content, any e-tailer can now appear to be local. And regional businesses in the Hungarian market are eager to take advantage of this opportunity.  In many cases, these foreign companies present themselves as fully Hungarian, with seemingly perfect Hungarian-language interfaces, prices and customer service.
47% of online shoppers believe that an ecommerce store is Hungarian if the retailer has a site or shop in Hungary.
The survey also reveals that 70% of Hungarian consumers think that the Czech-owned kifli.hu is a wholly Hungarian retailer. But the figures are also high for the Polish-owned site ecipo.hu (41%) and the Czech site alza.hu (35%). It is interesting to note that, in contrast, the figure for the 100% Hungarian online store, Euronics, is only 36%.
These results are further nuanced by the fact that 4 out of 10 Hungarian online shoppers do not mind if an online store has a foreign background, as long as it adapts to Hungarian needs.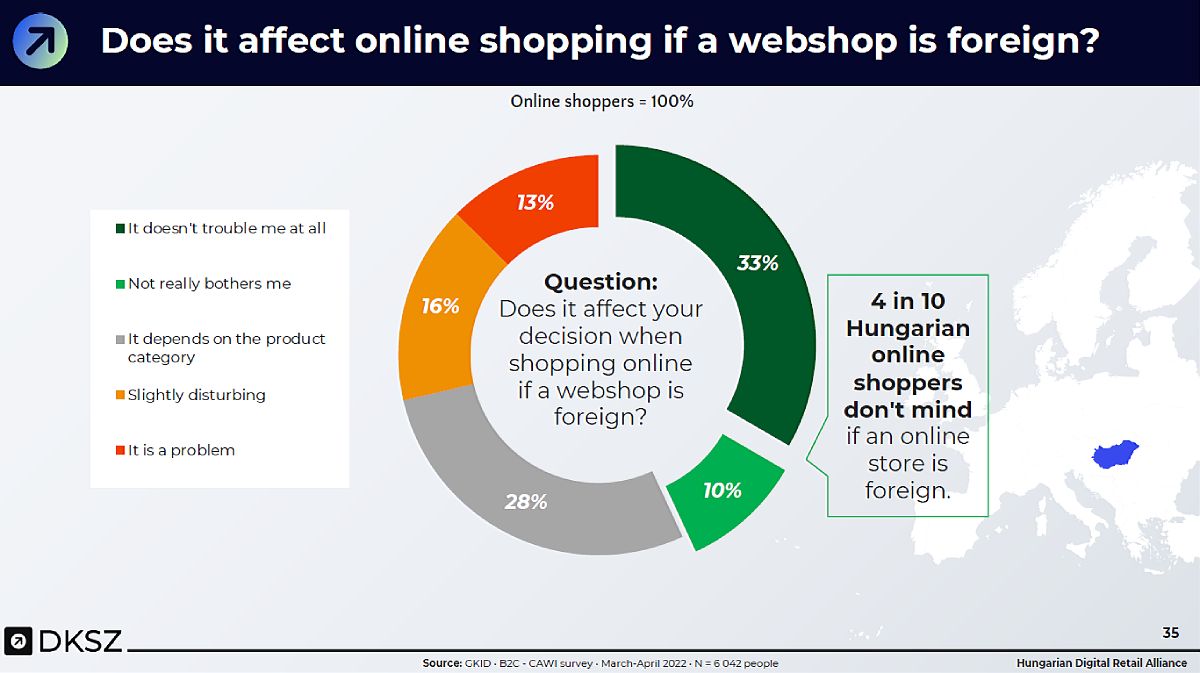 Key conclusions
This research can certainly be a decisive help for Hungarian companies that have not yet opened up to foreign markets.
The development of retail exports is of paramount importance, because at the moment, they are of negligible proportions, even though Hungary's potential and infrastructure are fully optimal from an export point of view.
Moreover, there are many successful examples of domestic companies which have already proven that there is a place for domestic businesses in foreign markets.
László Szabó, co-owner of Growww Digital, comments on the results:
"The research has made it very clear that in reality, launching an online business abroad does not necessarily entail a major professional challenge or a significant capital investment. Most Hungarian businesses are not exporting not because they don't know how to start, but because exporting does not emerge as an option in the short term."
Want to expand in the region? Download Your Free Ultimate CEE Ecommerce Export Guide!
75 pages packed with all you need to know as an ecommerce business before you expand to Czechia, Slovakia, Hungary, Romania, Croatia and Slovenia.