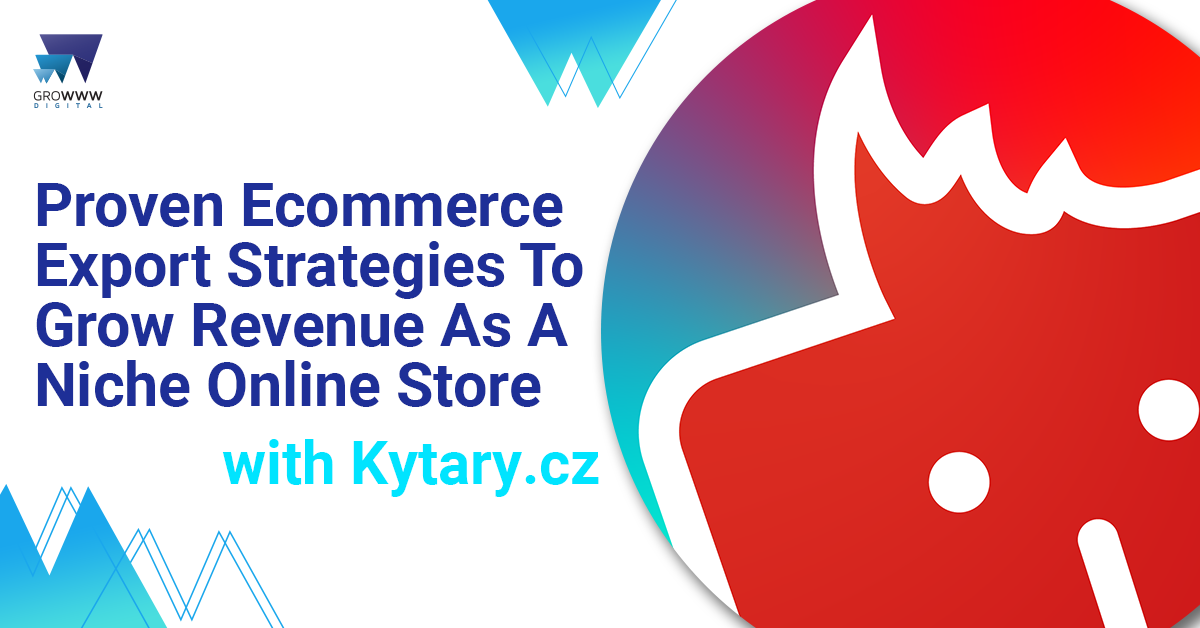 Proven Ecommerce Export Strategies To Grow Revenue As A Niche Online Store, with Kytary.cz
Proven Ecommerce Export Strategies To Grow Revenue As A Niche Online Store, with Kytary.cz
How to grow revenue by 282% as a niche online store? We've helped Czechia's best store for musicians to expand to Hungary and Slovakia. What competitive advantage did we have over other agencies and what strategies did we use? Let's dive in!
Download Your Free Ultimate CEE Ecommerce Export Guide!
75 pages packed with all you need to know as an ecommerce business before you expand to Czechia, Slovakia, Hungary, Romania, Croatia and Slovenia.
Musicians love Kytary.cz
The Czech music online store is well-known among musicians for its low prices and reliable service. Founded in 2000 by Jan Pils, a musician himself, the company had a unique competitive advantage – a deep understanding of their customers' needs given the founder's, as well as his team's, background. The online store quickly grew to number one in the Czech market and was ready to tackle European markets. 
This is when we at Growww Digital entered the game. Referred to by our client, Kytary.cz came to us for help with expanding to Hungary. After further negotiations, we got Slovakia as well.
"Agency's reputation is everything. A happy customer is more likely to refer to another customer. In the last 8 years, 65% of our clients came to us through client referral." says László Szabó, Co-founder & Head of Growth at Growww Digital.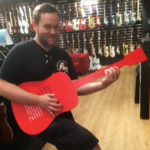 Knowing that people with a music background work at Kytary.cz, we had our own competitive advantage in our sleeves – our account manager and PPC specialist Lajos Osváth, who also happens to be a musician. Not only did he know the client very well as a customer, but he deeply understood his clientele as well. His experience played a lead role in our strategy.
10 times higher ROAS in Hungary in the first year of collaboration
One of the first orders of business we did was to switch the client from non-standard Google Analytics settings to market standards, so we could measure and optimise in a better way.
"Their analytics setting wasn't set up according to best practices. Because they used short-term cookies, they couldn't see all the conversions. After we changed it, we were able to segment conversions better and optimise for maximum growth," explains Osváth.
The following year (2019-2020) the 98.48% growth in cost generated 282.37% growth in revenue.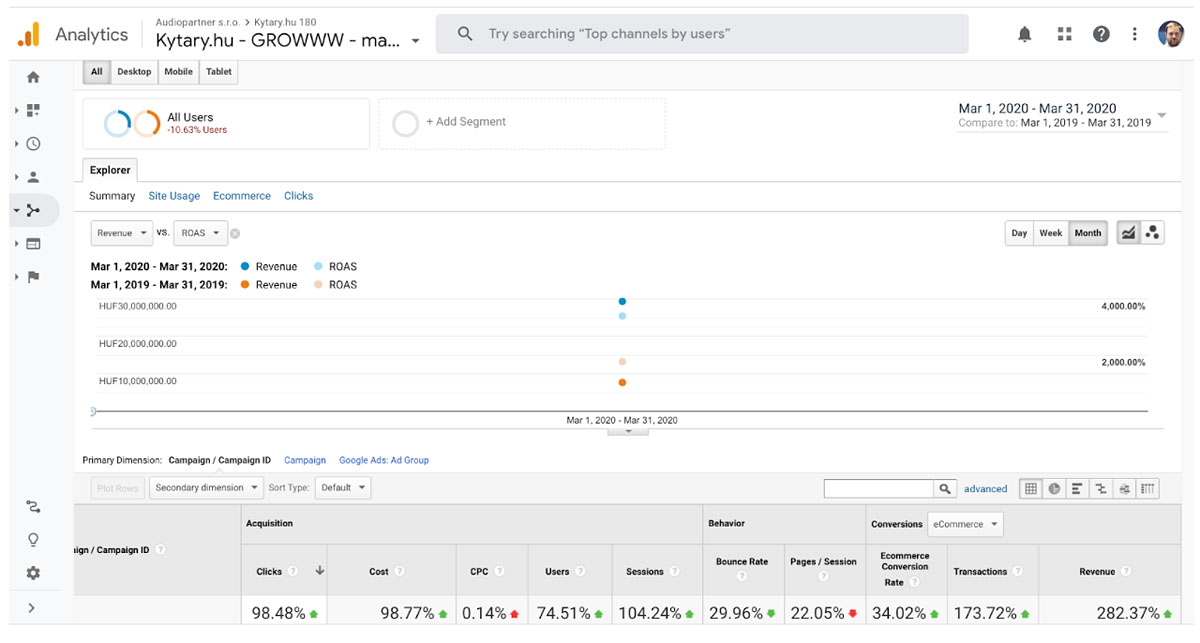 Integrated campaigns for seasonal shopping specific to musicians
Thanks to the new data, we were able to perform more granular targeting. With our ads, we targeted drummers, guitarists, bass guitarists, keyboard players separately, by using audiences based on dozens of signals as sub instrument brands, or concrete instrument models, which led to more effective campaigns with higher conversion rates. 
"What also improved were micro-conversions such as time spent on a page or the number of pages visited," adds Osváth.
From our experience, musicians need a long time before they decide to make a purchase. Often they compare prices with other shops or wait for special discounts. This is why micro-conversions are important as well as sales. The longer musicians spend on the online store's page, the more serious they are about making the purchase in this particular online store. 

Speaking of discounts, Black Friday is one of the most important shopping events for Kytary.cz. Summer is the main working season for many musicians, because of festivals and other events. After this season ends, they receive their royalties and are ready to update their instruments.
Sales events such as Black Friday lure musicians back to the online store, who are now ready to make purchases on the gear they previously researched. This is the time when remarketing especially paid off.
Localisation is key to success
A part of the services we offer to clients is localisation. Customers in all CEE countries are extremely sensitive to the correct use of their native language and messaging that understands the nuances of their culture (such as humour, pop-culture references, etc.). 
For both the Hungarian and Slovakian markets, we created the copywriting in all ads – at first all going through an approval process, later on we had our hands free.
"We received videos from the client for which we gave feedback. It contained a lot of Czech humour which doesn't translate or work well in Hungary. The two nations just have vastly different senses of humour and dabbing can be frowned upon, especially if it's not done by someone who's not a native speaker. Hungarians can always tell," explained Osváth. "The client took our advice and the following year his ads looked much more professional," he added.
Do you need a partner to help you expand abroad? Reach out! 
Wonder no more – talk to us! Fill in the form or feel free to contact László Szabó, co-founder, Google Certified Trainer for Export, and Head of Growth at Growww Digital, at szabo@growwwdigital.com or +36 30 537 7051
Download Your Free Ultimate CEE Ecommerce Export Guide!
75 pages packed with all you need to know as an ecommerce business before you expand to Czechia, Slovakia, Hungary, Romania, Croatia and Slovenia.