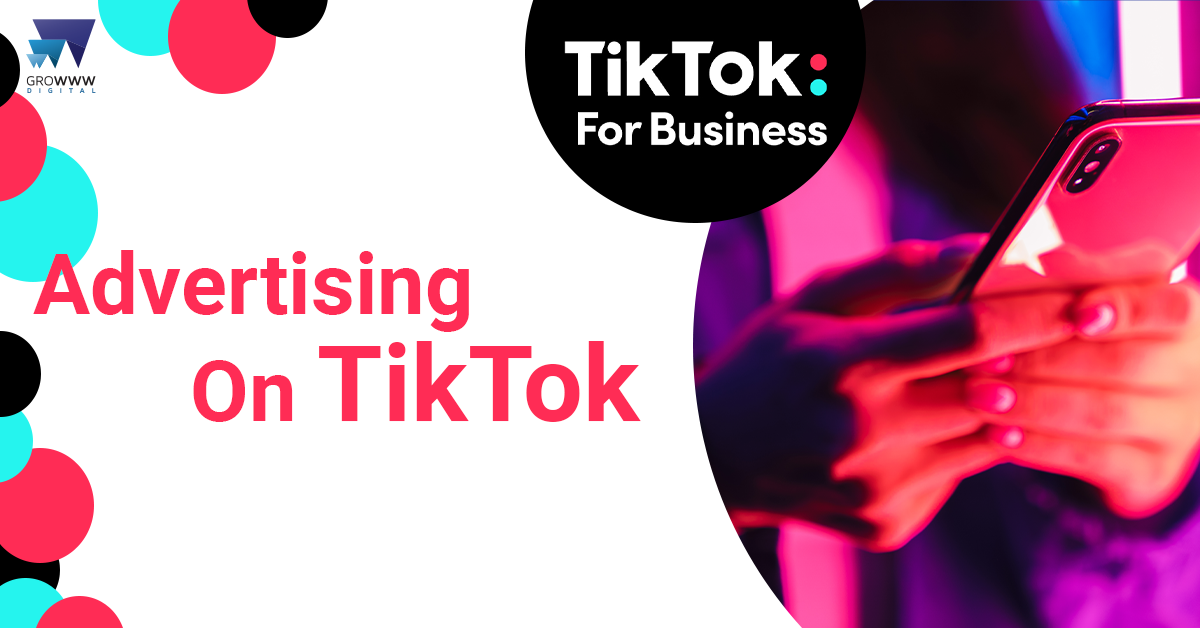 Advertising On TikTok: Much Cheaper Than Facebook
Advertising On TikTok: Much Cheaper Than Facebook
The most downloaded app for two years in a row, TikTok is taking the Internet by storm. In 2021, 656 million new users joined the platform, adding to the 850 million downloads from 2020. Following the success, TikTok has launched advertising options for brands with limited access. Is the platform worth your budget? How can you access ads? We'll answer all of your questions in this article!
Download Your Free Ultimate CEE Ecommerce Export Guide!
75 pages packed with all you need to know as an ecommerce business before you expand to Czechia, Slovakia, Hungary, Romania, Croatia and Slovenia.
3 reasons to consider advertising on TikTok in 2022
It's an opportunity to reach a new and different audience than on other platforms. 
Ads on TikTok are very cheap at the moment compared to ads on (Facebook) Meta-owned platforms.
There is very little competition as most companies don't advertise there yet.
"Being among the first to adopt a new platform is a smart move—there is very little competition. It's easier and cheaper to reach a new audience. Your brand can quickly become a big fish in a small pond," explains the opportunity Péter Lippai, Senior Account Manager and TikTok Specialist at Growww Digital.
TikTok audience and content – how it's different from other platforms 
Each platform is specifically based on who's the dominant audience. Currently, TikTok is largely populated by a young audience, just like Instagram once was. 
We can expect older audiences to join soon as this platform grows and becomes more mainstream. In Hungary, 70% of users are older than 18 and 30% are aged over 35. Overall, TikTok has a very different audience to Facebook or YouTube.
"TikTok is a very creative environment and that is a key factor in what content works on the platform. One trend is clear already – ads must not look like ads but like TikToks. In other words, content must be authentic, engaging, entertaining, educational, and most importantly, styled like user-generated content," explains Lippai.
Micro and nano influencers are your best bet. For our client campaigns, we approached influencers with a request to unpack, use, and review clients' products. This format works incredibly well on TikTok as it feels like native content, not like an ad. Once the influencer publishes videos, they can give you the post ID and you can boost it to make an ad.
In general, users on TikTok are very engaging and you get a lot of feedback on what the audience likes, dislikes, or how they prefer to consume content from your brand.
"Facts about your company won't work as content on TikTok. Companies need to make content that is more personal and emotional. You need to show yourself to the audience, not hide behind polished and conservative content like you would on Facebook or Instagram," he adds.
What is the cost of TikTok Ads?
At the moment, the average CPM and CPC is a quarter of the price for what you get on Facebook. 
"Facebook Ads are increasingly more expensive yet less effective. TikTok represents an opportunity to reach a whole new audience for a fraction of the cost," adds Lippai.
We did a side-by-side comparison from a campaign for our client in the beauty segment. Because TikTok is a brand awareness-building platform, we ran ads focused on Reach, Activity, View, and Fan Campaigns.
| | | |
| --- | --- | --- |
| | Facebook | TikTok |
| CPM | €1.28 | €0.29 |
| Reach of 1000 user | €5.43 | €0.50 |
| 1 new follower | €0.39 | €0.31 |
| Frequency | 4.25 | 6.05 |
Now is the best time to start advertising on TikTok as the prices are likely to grow as more advertisers join the platform. You can still get great prices and it's still a bargain compared to Facebook. 
We pulled data from our Business Center, which has approx. 40 Ads Managers' data, and managed to export a graph about the average CPC and CPM prices in 2021.
We are beginning to see the first signs of the market starting to integrate TikTok in their shopping event marketing activity – the CPC spike around Black Friday shows this clearly. However, it is still very early days in TikTok Ads compared to other ad solutions.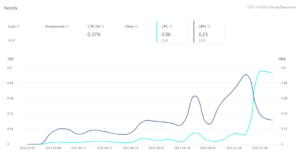 Can anyone advertise on TikTok?
From our experience, you can expect exceptional performance in the following categories: fashion, beauty, computer and tabletop games, mobile apps, and music.
On the other hand, TikTok has a very strict advertising policy and some products are not allowed to run ads on the platform. 
Some of the prohibited categories include:
Animals, animal parts, or products

Adult sexual products, services, and entertainment

Casinos and gambling games

Cigarettes and tobacco products

Counterfeiting and piracy

Drugs and paraphernalia

Police/military gears and equipment

Political Ads

Weaponry and weapon parts
There are also restricted categories that have special rules and regulations. These change based on the market where you want to advertise.
For more specific information, please refer to the advertising policy or contact us for a free consultation.
Do you want to start advertising on TikTok? 
Book a free consultation with us and let's talk about your goals and possibilities. 
Download Your Free Ultimate CEE Ecommerce Export Guide!
75 pages packed with all you need to know as an ecommerce business before you expand to Czechia, Slovakia, Hungary, Romania, Croatia and Slovenia.